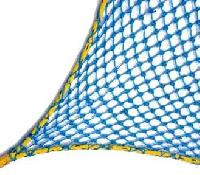 Safety Net is the combination of cobweb, border ropes, test meshes and tags of the net. Safety Net may be either tied or untied with a square or diamond mesh combination.
These nets are used in construction, building maintenance, entertainment, or any other industry. A fall from a height is likely to result in a severe injury and by placing safety nets below a high-level work area; there is a less chance that the person will be injured if they fall. The application of safety nets has guarded many lives and also provides protection applications such as Construction tower, high-rise building, etc., protecting workers on plat forming or people on mezzanines.

Why are safety nets important at construction sites?

The safety nets are usually used to catch the falling people and also in defence for the workforce who perform at the construction sites and other similar projects. No matter how big or small the project is, safety of life is always the top arrangement. It's the responsibility of the employers to keep their employees safe by maintaining the health of the building site following safety standards. Apart from being an arrangement, it also lowers the risk of increased overheads of site through sick leave, work stoppage and loss of staff.

Vital quality parameters of Safety Nets are:
• Load bearing capability
• High tensile strength
• Comfortable grip
• Corrosion resistance
• Durable finish standards.
• Fireproof

Safety net manufacturers in India implement highly productive manufacturing techniques to bring forth the unmatched quality products that are gaining nationwide recognition for the outstanding strength, unique designs, stylish textures, durable quality, reliable operations and equitable price range. The manufacturers fabricate reliable and sturdy safety nets which can be installed vertically or horizontally to protect people.

Safety net manufacturers in India should take due care of the following crucial points-

• They should be backed by the high-tech manufacturing unit, equipped with the advanced equipment and machinery, such as Direct Injection Moulding, etc. for delivering flawless Safety Products.

• They should have a separate strict quality control team, who apply stringent quality checks on the products on different quality parameters and ensure to deliver the products as per international quality standard.

• They should use strong quality packaging boxes to pack their products in order to keep it safe and sound during the transit time.

• They should have a huge in-house network to ensure damage free delivery and hassle free consignments to the clients within the stipulated time frame.

• They should have Raspire to anticipate the evolving market trends and put efforts to improvise our production operations consequently.

• They should be backed by a capacious warehouse and it should be well maintained and insecticide to be spreaded to keep the products safe.

• They should offer pre-cut as well as customised netting sizes to the clients.

• They should establish long-term relations with the clients, by delivering them quality products at cost effective prices and offering after sales-services.

Hence, we can conclude that providing a safe working environment isn't just a good idea, it's the law and safety nets manufacturer in India are listening closely to the challenging needs of the clients.
This entry was posted on October, 17, 2020 at 15 : 12 pm and is filed under Safety Net. You can follow any responses to this entry through the RSS 2.0 feed. You can leave a response from your own site.